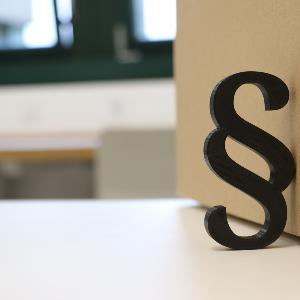 Study
Students and prospective students can find all information about studying at the Faculty of Law here. Please note that most of the information is presented on the German website. This applies in particular to content that only concerns German-language courses.
Change content
Law as a major subject
Law as a minor subject
Postgraduate courses / LL.M.
Administration period:
Winter semester: 1 October to 31 March
Summer semester: 1 April to 30 September
Lecture periods:
The winter semester lasts 17 and the summer semester 14 Wochen.
Winter semester 2023/24: 16 October 2023 to 9 February 2024
Summer semester 2024: 15 April 2024 to 19 July 2024
Winter semester 2024/25: 14 October 2024 until 7 February 2025
Summer semester 2025: 22 April 2025 to 25 July 2025
Lecture-free days:
In the winter semester: 24 December up to and including 6 January.
In the summer semester: Maundy Thursday up to and including the Tuesday after Easter and the Tuesday after Pentecost.
All public holidays.
Further information (in German)
Here you will find further information about studying and degree programmes at the Faculty of Law. Please note that the information is only available in German.